15% DISCOUNT APPLIED AUTOMATICALLY AT CHECKOUT
SELECT FREE SHIPPING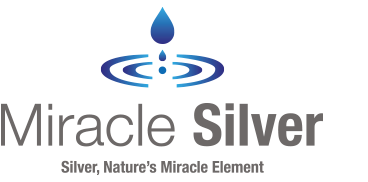 Embrace silver, nature's miracle element with our top-rated Colloidal Silver Spray.

Miracle Silver Colloidal Spray is formulated with all natural ingredients and created using ground-breaking technologies, this unique spray contains the highest potency of natural silver on the market. Best of all it's 100% natural and nonreactive, so it will not irritate the skin. Miracle Silver keeps the surface of your skin clean while promoting healing and skin health.

Distilled Water, 99.99% Pure Silver Nanoparticles (5-50NM) 40ppm

• Suitable for all skin-types
• Perfect for acne, redness, irritation, diaper rash - has natural antiseptic properties
• Formulated using plasma heat infusion opposed to traditional electrolysis methods
• 100% vegan, dairy-free & non-GMO

*The results may vary from person to person


Key benefits of Miracle Silver

Suitable for all skin-types, no chemicals or artificial additives. Just natural ingredients.

Natural Antiseptic Properties
Silver is known to naturally have anti-bacterial, anti-viral, and anti-fungal properties

Inspired by nature, created by science
Apply 2-6 sprays (use as needed) of our Colloidal Silver Spray onto your skin so that the affected area is lightly misted. Once misted, allow the area to dry. We recommend that you use Miracle Silver on freshly cleaned skin, but it is not essential. For best results, use Miracle Silver every day, in the morning and evening before bed. Miracle Silver can be used with other skincare products, it is 100% non-reactive but for maximum effectiveness it should be used prior to the use of any moisturizers, creams or gels. Do not apply Miracle Silver directly onto open or bleeding wounds.

Miracle Silver is offering a fantastic product at a great price. I've compared HUNDREDS of different silver based products and this is by far my favorite.
Frequently asked questions
At Miracle Silver our mission is to embrace the power of natural silver. Formulated with an innovative blend of science and the chemistry of nature, we are committed to changing the face of Colloidal Silver Spray by using our ground-breaking technologies and 100% natural ingredients. 
How Should Our Colloidal Silver Spray Be Used?
Miracle Silver's Colloidal Spray should be used twice a day, in the morning and before bed by spraying 3-6 pumps onto the affected area until lightly moistened. Although we recommend using the spray on clean, freshly washed skin, it can be used as a new addition to your skincare regime without counteracting the benefits of other skincare products.
Are There Any Side Effects?
Miracle Silver is safe to use. Our break through formula and manufacturing process results in some of the purest, most potent and effective colloidal silver products on the market. There have been cases where individuals who tried making colloidal silver at home and got sick as a result due to impurities and toxic salts from their improper production methods. Some even suffered from Argyria, a condition that turns the skin a pale blue color. This was due to improper manufacturing methods of colloidal silver. No one should ever try to make their own colloidal silver. These individuals used electrolysis (chemical reaction) as their production method which results in toxic salts and byproducts. Miracle Silver's production method is a physical reaction where we heat pure silver to a plasma state and infuse it with water to create colloidal silver.
Promotions, new products and sales. Directly to your inbox.
*These statements have not been evaluated by the FDA. This product is not intended to diagnose, treat, cure, or prevent any disease.

California residents: Proposition 65 requires notifying California consumers of substances in consumer products which might cause cancer, birth defects or other reproductive harm. Natural Immunogenics' products have been tested and do not require notification.

† According to the EPA (CASRN 7440-22-4) daily Oral Silver Reference Dose (RfD) applied to 10 ppm, one adult may ingest 178,850 servings safely over 70 years.